Rui Araizumi, the illustrator for the Slayers novels, drew six comics from 1992 to 1995 as occasional tie-ins to the novels and short stories which were being published in the Japanese monthly Dragon magazine. In 1995, these six comics were collected and published in one volume. The demand for the collection was so high that two more press runs were completed within three weeks of the initial release. There are at least two different copies of this collection going about - one being a magazine-style format, and one being a slightly-oversized manga volume format.



Slayers

First released July 1, 1995 by Kadokawa Shoten / Dragon Comics
ISBN-04-926068-9, 520 yen; 162 pages, 4 in color.


In October 1998, CPM Manga (a then newly-formed division of Central Park Media) began releasing these six chapters in America, first as individual comics, and then as a graphic-novel form as well. The covers for the first six comic releases are pictured below.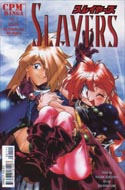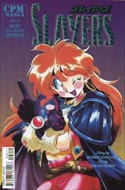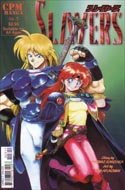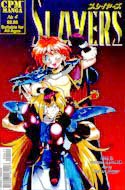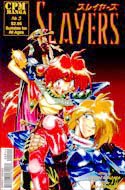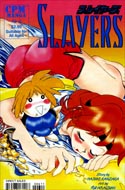 Next page
Anime - Books - Multimedia - Background --- Resources - Production --- Search - Contact

Last modified: 2000.07.31 (Mon)
This page (http://www.inverse.org/e/books/manga/araizumi.shtml) is part of Slayers Universe
Slayers Copyright (c) 1989-2003 Hajime Kanzaka / Rui Araizumi / Kadokawa Shoten / TV TOKYO / SOFTX / Marubeni
Page content is copyright (c)1997-2003 by Xelloss
HTML and scripting are copyright (c)1997-2003 by Xelloss (Andre Germain)
and are not to be altered or reproduced without permission.