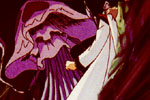 Zelas Gort 水母召(ゼラス・ゴート)
Also known as: Summon Jellyfish
Category: Black / Curses
Note: The Encyclopedia Slayers lists Zelas-Gort as a Shamanism / Water spell. Also - Zelas Gort and Kyu-Kyum Spin are often confused for one another, even in the official Slayers references.
This spell was created to summon jellyfish. When drowning in the sea, the caster can be saved by the rush of jellyfish, but no other use of this spell can be seen. (Though jellyfish do taste quite good, pickled.) In the novels, can only be cast by Naga, who has a special affinity with jellyfish, but in the anime Lina and others can also cast the spell.