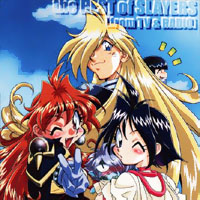 Review by Rachel F.
Makes me short of breath. 30 tracks! On 2 CD's! And of these, they're almost all great (it is The Best of Slayers after all).

I actually did write a review some weeks ago when I got this, in which I really did go track by track through the entire album. It ended up as six pages. So I'll try to only hit the highlights.

CD 1 is a collection of openings, closings, English versions of openings and closings, songs that were used instead of above openings and closings, and one song that doesn't seem to be any of those. It, of course, contains every TV theme, as well as the surprisingly good radio themes. All four of these (two openings, Going History, track 3, and Naked Mind, track 4, as well as two closings, neither of them with English titles- tracks 4 and 8) prove to be at least as good as their TV counterparts (well, except for track 4, which isn't much). Two have been translated, and going by them the radio themes also seem to be a bit deeper lyrically than the TV ones. Somewhere is as beautiful as ever, and then we come to the three English themes…Fair Wind (who knows why?) Brave Souls (which I have a deep and abiding love for, despite the mixing job), and the first of the three new tracks here: Power of Infinity, which is an English Get Along (you will either love it or hate it.). The last track, #15, is In This Arm, a brand-new song with one heck of an instrumental beginning (it even beats the acoustic guitar that begins Breeze).

CD 2 is the image songs. Tracks 1, 2, and 3 are the more obscure radio image songs- one for Martina (When I'm In Love) which it's best not to ask me about, one for Ameria (Process) which is decent if forgettable, and when we come to Lina's (Madonna of the Battlefield), the first really good one on the CD.

Then we go on a long kick of remixes (mostly very good, except for poor little Exit Running) of image songs from the three seasons (but mostly from the TRY Vox). Most of the tracks are mentioned in the review of the CD they came from, but, of course, I can't not mention Gourry's Set Me Free, which if released in English in the U.S. would make Gourry a star. Together with Sylphiel's Alone, it was released on the third NEXT Sound Bible. The last track is another new song, whose chief claim to fame would be being sung by all four main Slayers voice actors. However, it would also be nice if it showed evidence of taking longer than an hour to write, also if it were a little bit longer, and better mixed…but it manages to sound good anyway, because of sheer star power.


Release date: [not available]
Producer: Vink

Track List
[Disc 1]
1. Get Along [Album Version]

2. Kujikenaikara!

3. Going History

4. Shakunetsu no Koi

5. Give a Reason

6. Jama wa Sasenai

7. Naked Mind

8. Niji no You Ni

9. Breeze

10. Don't be Discouraged

11. Somewhere

12. Fair Wind

13. Brave Souls ~ Give a Reason

14. Power of Infinity

15. In This Arm
[Disc 2]
1. Datte Koishitara ~ "When I'm in Love"

2. Process

3. Senjou no Madonna

4. Nemuranai Yoru Wa

5. Exit/Running

6. Uso no Nai Game "Set Me Free"

7. More than Words

8. Stand Up!

9. Otome no Inori

10. Alone

11. Ame no Far Away

12. Secret "Dareka no Message"

13. WARU Bad Blood

14. Kono Sekai no Dokokade

15. SLAYERS 4 the Future
Anime - Books - Multimedia - Background --- Resources - Production --- Search - Contact

Last modified: 2000.01.25 (Tue)
This page (http://www.inverse.org/e/multi/cd/best.shtml) is part of Slayers Universe
Slayers Copyright (c) 1989-2003 Hajime Kanzaka / Rui Araizumi / Kadokawa Shoten / TV TOKYO / SOFTX / Marubeni
Page content is copyright (c)1997-2003 by Rachel F.
HTML and scripting are copyright (c)1997-2003 by Xelloss (Andre Germain)
and are not to be altered or reproduced without permission.