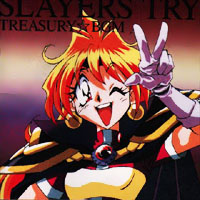 Review by Rachel F.
Many, many BGMs, as well as TV size and remix versions of Breeze and Donít Be Discouraged, and the English song based on the tune of Breeze, Fair Wind.

Where to start? There is one very definite thing about this CD: itís not about vocals, itís about BGM. And there is hardly a reason to list and place the great tracks on this album, because in all honesty, it makes a lot more sense to list the tracks that are not great pieces of music: those would be #16, because it doesnít work when itís not behind narration, and what else? Well -- 29 is a little weird too. The rest of the BGM on this CD, however, varies from great to fantastic, with probably the best being numbers 3 (an instrumental of Donít Be Discouraged), 11-13 (variations on Filiaís theme), and 18 (I canít place it in the series for the life of me, but -- wow!).

The TV size versions of Breeze and Donít Be Discouraged are tracks 2 and 30 respectively. The remixes (10 and 24) are both very well-done, if rather strange, especially Donít Be Discouraged. Fair Wind? Itís fun, but this guy might be taught to sing a little better


Release date: [not available]
Producer: Vink

Track List
(coming later)


Anime - Books - Multimedia - Background --- Resources - Production --- Search - Contact

Last modified: 1999.09.21 (Tue)
This page (http://www.inverse.org/e/multi/cd/try-bgm1.shtml) is part of Slayers Universe
Slayers Copyright (c) 1989-2003 Hajime Kanzaka / Rui Araizumi / Kadokawa Shoten / TV TOKYO / SOFTX / Marubeni
Page content is copyright (c)1997-2003 by Rachel F.
HTML and scripting are copyright (c)1997-2003 by Xelloss (Andre Germain)
and are not to be altered or reproduced without permission.